So for those of you that follow my blog know that I've been binge watching Greys Anatomy on Netflix. I am finally caught up as of last week. I know, I know, who goes through damn near 14 seasons with 24-25 episodes each in a matter of 3 weeks? Me 🙋🏾‍♀️!!! It's weird because this weekend was a rain boring weekend and I couldn't for the life of me figure out what to watch because my brain has been all about Grey's Anatomy and I just didn't want to watch anything new. Anywho, a lot of emotions came up while watching this show. One of the main reasons is because of season 10. Now if you haven't watched Grey's Anatomy and you have intentions to watch it please skip to the next paragraph now. I say this because I'm about to spoil alert 🚨 in 5…..4…..3…..2…..1
So, in season 10 Meredith Grey and Christian Yang go through a rough patch where they are not getting along and not talking to one another. the fight and they make up but then Christian ends up leaving to peruse her career in Switzerland. Now, for those of you don't know Christian started out with Meredith as interns and although there were 5 of them who bonded and became close friends. Meredith and Christian become something more. They were best friends, they were sisters(twisted sisters), they were each other's backbone. Grey and Yang were other's "Person". Through the ups the downs and all that lied between work, family, and relationships it was each other they lend on. Christian was Meredith family and vice versa.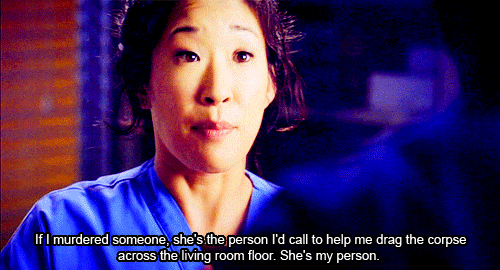 Like I was saying after watching Grey's Anatomy from the very beginning to the end all over again emotions have stirred up. Emotions I've tried to pretend didn't exist and for a while it worked but lately it has resurfaced. I catch myself reminiscing about the bond we use to have and thinking how much I miss that whenever Facebook pops up a memory which for some reason has been a lot. Oh, and don't get me started on that damn song Old Friends by Jasmine Thompson.🙄 When I walked away from our friendship I walked away telling myself I didn't need anyone. That I didn't need you and that you were irrelevant to me. And for a year you were irrelevant because I masked the hurt and the pain. We've been through so much and some of it took a toll on me. Instead of expressing myself I pushed it down and decided to walk away. Because she was supposed to be my "Person". She was supposed to always be there and you supposed to understand. I was supposed to be her maid of honor and the godmother to her children. You were suppose to be the same for me. So when that final straw broke I decided FUCK THIS!!! Enough is enough. I'm good with or without her. So without a word or even a thought I backed away. There was no argument or discussion as to why. I just stop calling and stop responding. I figured if you didn't understand what the problem was then there was no point. After 14 years of friendship and sisterhood it was done. No grudge. No hatred. No bad wishing. I figured we'd run our course and it was time to continue our journeys on different paths. Lately I find myself wishing we were back on the same path. I catch myself starting to call her or text her about some big news and then I stop and I remember she is no longer my "Person" and it awkward. 🤦🏾‍♀️ Who knows if we'd ever be friends again and if we were could it ever go back to the way it was.  Or maybe we will just dance it out and finish. I'm not sure what God's plans are and I have some reservations about it, but she will forever be my Christian Yang.
Xoxoxo,
Sm00chezzz 💋💋💋